Sara Cox to Referee Italy Women v Ireland Women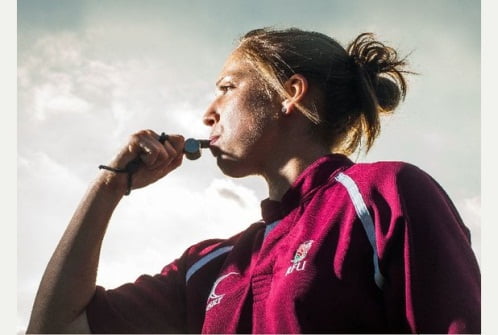 Former Clyst Vale student Sara Cox will referee her first Six Nations Women's Rugby International this week. Sara is "in the middle" for Italy Women vs Ireland Women in Firenza on Friday 6th February. She was Clyst Vale's pioneer woman rugby player, gaining an England trial before injury forced a change from playing to refereeing.
Sara's rise up the refereeing ladder has been impressive since she began in 2007-8 – she has already refereed two women's internationals, as well as being regularly involved in the IRB Sevens tournaments, including Dubai, Hong Kong and Paris. Sara's priorities this year remain the IRB Sevens, working towards the 2016 Olympics. She still finds time to referee men's rugby to Division Three standard locally, as well.
I was lucky enough to meet Sara at an event at Sandy Park, and she remembers her time at Clyst Vale as a positive one, praising the teachers who encouraged her and pushed her on both in her sport and her studies (she stayed on to do A-levels).
It's amazing to think that former Clyst Vale students Sara and Abbie are involved in two of the three Women's Six Nations matches this weekend! Best wishes to them both for an excellent game.