"What are you fighting for?"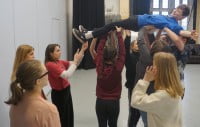 On Sunday 16th February, seven of our Year 9 drama students made the Northcott Theatre their platform to give a performance of their own original drama piece.
The students had been working towards this with Paignton-based 'Doorstep Arts', supported by the University of Exeter. Professional theatre artists from the company had visited Clyst Vale on two previous occasions, to workshop the students' ideas with them, on the theme of "What are you fighting for?"  Sunday gave the group the opportunity to put the finishing touches to, and then showcase, the final product.
Through this experience, our group had the chance to meet other students from across Devon who are similarly interested in the performing arts.
We are very proud of the way our students embraced this fabulous opportunity to take part in a critically-acclaimed outreach programme; they focussed hard and worked together really well, producing a very high quality of work.  Well done – and a big 'thank you' to Doorstep Arts, the Northcott Theatre and the University of Exeter for making this possible.
The photographs show our students in rehearsal and performance in the drama studios at the Northcott Theatre.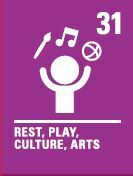 Rights Respecting School
This activity links with Article 31 of the Convention on the Rights of the Child:
The right to participate in "opportunities for cultural, artistic, recreational and leisure activity".