Former Clyst Vale Student on Stage and Screen
Luke Newberry attended Clyst Vale from 2001 – 2006 before embarking on the challenging career of professional acting. While at Clyst Vale, Luke had a number of child roles, including a part in the musical Chitty Chitty Bang Bang on London's West End, so we knew that he was destined for great things, and are very proud of him!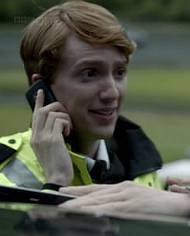 You may have seen Luke in an episode of Sherlock (see photo), screened on New Year's Day, for which he had a great couple of days filming in Wales with Martin Freeman. Luke will also be appearing in two forthcoming feature films, 'Quartet' starring Maggie Smith, directed by Dustin Hoffman, and 'Anna Karenina' starring Keira Knightley. He is currently filming 'Mrs Biggs', an ITV drama about the Great Train Robbery, playing the part of Gordon. Following that, Luke is off to Prague and Amsterdam for a month to play the lead role of Sacha in a feature horror film set in World War II. In April he returns to London to start rehearsing for the role of Haemon in 'Antigone' at the National Theatre. Luke is a shining example of what Clyst Vale students can achieve if they have the talent, drive and ambition.