Survival Against the Elements
Ninety students headed North to the wind swept coastline of Bude for the Year 12 Bude Residential week on a cold, grey rainy Sunday afternoon. After throwing their suitcases into the rooms they went straight into team building activities, the start of an action packed programme which tested them to their limits both physically and emotionally. The mornings started at 7.30am with a run on the golden sands of Summerleaze Beach followed by a swim across the icy cold sea pool. After a hot cooked breakfast the first of the three daily activities began. These included surfing, high ropes, kayaking, caving, climbing, night navigation and many more. The students completed a profile highlighting their strengths and areas for development. On the last night we all thoroughly enjoyed a presentation evening, celebrating the achievement of all the students. Some outstanding individuals were given special awards and the group that impressed both the Centre staff and teachers won 'Super Team 2012'.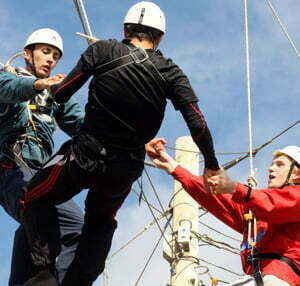 The Centre staff commented on the enthusiastic and imaginative approach of the students to all the tasks and activities and were stunned that over a third of them had only joined us three weeks previously. The confidence, interpersonal skills and self-awareness they have all developed over the week will undoubtedly have a positive impact on the rest of their lives.
{gallery}departments/P16/bude12{/gallery}