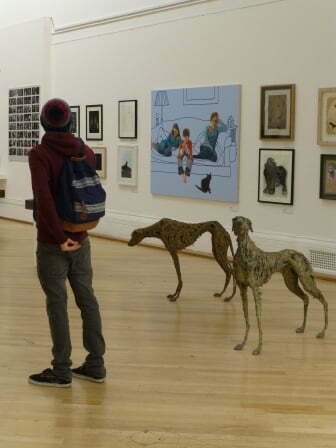 On the 14th March Year 12 and 13 Art and Photography students had their annual trip to Bristol to research their current exam themes. This year AS students are having to consider the theme of 'Covert and Obscured' and A2 students 'Inside, Outside, In Between'.
The students were taken first on a walking tour of part of the city which encompassed a wide variety of sights and venues such as The Millennium Square, Bristol Cathedral, Park Street, The Royal West of England Academy's exhibition 'Reigning Cats and Dogs', The Foster's Alms Houses, The Christmas Steps, Nelson Street and the 'See No Evil' Graffiti Festival artwork and St Nicholas Market.
After returning to the Bordeaux Quay students continued to explore a range of options during the afternoon. The Arnolfini Gallery and the Version Control exhibition explored the notion of performance and film as part of artwork and students were able to experience different ways of working. Spike Island Exhibitions by Uriel Orlow and Becky Beasley challenged students' perception of art even further.
With visits to Bristol's Mshed Museum, Bristol Museum and Art Gallery and the wide variety of sights along the Hannover Quay and beyond, the students were able to enjoy an inspiring trip which helped develop and expand their ideas for their exam preparation work. With this exciting and vibrant city only an hour away by train many students in the past have returned to Bristol independently to continue their work and revisit some of the exhibitions and venues.
Quotes from students…
'Fantastic day! I found the location provided many inspiring ideas. The weather and the clear sky worked in our favour as photographers. The possibilities for photos in Bristol are endless.'
Jay Davey (Photography Student Year 12)
'I really liked the square with all the reflective surfaces and water features. It was a great place to take photographs.'
Shannon Darke (Photography Student Year 12)
'A well planned trip with something to suit everyone whether it was pieces of art in the galleries or the street art and graffiti in Nelson Street. A really interesting trip!'
Michelle Burrow (Art Student Year 13)
{gallery}departments/Art/Bristol{/gallery}