Mr Arthur Jorden 1924-2013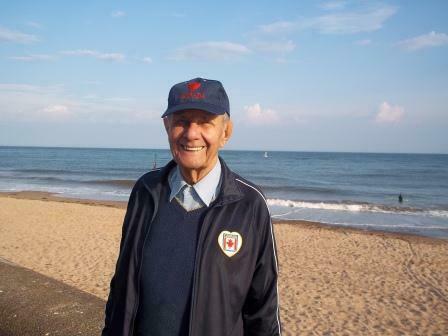 Mr Arthur Jorden visited us at Clyst Vale regularly over the past eight years. He first met a group of students when he came to speak to Miss Ashby's tutor group about his experience of being in the RAF and being deployed to France shortly after D-Day in June 1944.
Arthur was born in Egypt on 4th July 1924 whilst his father worked for the RAF in the Suez Canal zone. At the age of 16 he joined the RAF and was only 19 years old when he landed in France in 1944. After his wartime service he emigrated to Canada where he lived in Vancouver from the late 1940's.
Arthur worked on the railways for many years but then decided to join the Royal Canadian Airforce. His first posting was to Nottingham as part of the NATO force in the UK. When he retired from the RCAF he worked for 14 years at the British Columbia Institute of Technology teaching car mechanics to young adults. When he retired from that job he did some work as a film extra in Vancouver, meeting Jonny Depp and many other actors.
Arthur last visited us in June 2013. We had our usual party with him and students chatted with him during their lunch break. He became ill when he returned to Vancouver, and after four weeks in hospital he died peacefully on 8th August.
Arthur loved talking to Clyst Vale students and staff. What we all loved about him was his enormous zest for life and his positive spirit. He told our students to get the best possible education that they could and then to travel as much as possible. His friendship enriched the lives of all of us who knew him.