Cambodia – The Trip of a Lifetime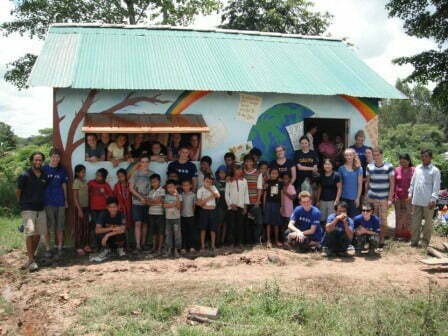 Trying to condense our experiences in Cambodia into a few words is incredibly difficult. It was, quite simply, amazing. There is so much I could tell you about, you'd be sat here reading until Christmas! So instead, let me focus on the most important thing – our students; the young people who represented Clyst Vale, Devon, even the UK. They were astounding. I was and still am so very proud of them. They threw themselves into everything the Kingdom of Water had to offer – even trying a few local delicacies that I was far too squeamish to even consider!
Most of our time was spent on project work which ranged from helping the cooks out in camp to digging, constructing and painting at the local school. Laura's skills in art were called upon to help create the most stunning mural on a newly constructed library, which the locals were delighted with. The digging was particularly tough. Shifting the clay soil that was saturated with the previous night's downpour took particular strength of spirit. We also discovered that Anton had a particular talent at metal-bending which he took to like a duck to water!
When not on project work we spent time taking in the delights of this wonderful country. The temples were breathtaking, while exploring the markets of Siem Reap and Phnom Penh ticked the boxes for the shopaholics among us. None of us realised quite how much we'd enjoy the light-hearted bartering!
There were plenty of opportunities for our keen photographers. From vibrant rice fields to dusty roadside sellers, almost everywhere you looked there was a unique photo opportunity. Anton and Sam were never without their cameras!
The trek was possibly the most daunting part of the journey, but once again our students gave it their all. No matter how tough it got, they plodded on with a smile on their faces and a ready joke on their lips. I was particularly impressed with Ella and Sam who showed determination in the face of hardship every day!
We learned an awful lot about ourselves, other people and a different way of life. It became as much about what we could change for the better back home as it was about helping to improve the lives of others. This was the trip of a lifetime and one I'm sure Ella, Laura, Anton and Sam will not forget in a hurry.
{gallery}departments/Geography/cambodia2{/gallery}