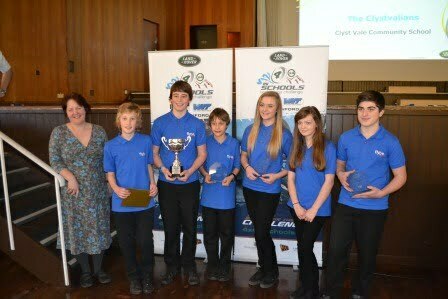 The Clystalians, our 4×4 STEM team, won FOUR awards at the Landrover Challenge Regional Competition held at Exeter University on Tuesday 28th January, and now progress on to the National Final to be held at the Jaguar Design Centre in Warwickshire. I cannot put in words how proud I am. As well as winning the overall trophy, the team also won awards for Best Engineered Vehicle, Innovative Thinking, and Best Track Performance. This is a serious and demanding contest: as you'll see from the pictures below, the whole team are involved in putting on a display, making a presentation, answering technical questions, as well as each driving the car across a challenging track, pulling and reversing a trailer.
Huge congratulations to Matt, Daisy, Joachim, Nathan, Willow and Zacc, and to Messrs Hewlett and Turl for all their hard work in coordinating the team. We had fantastic support from Dan Hooper at Flybe, and sponsorship from ExIST.
Click on the link below to see our team in action!
https://www.youtube.com/watch?v=sSmH2rNEhjc
{gallery}departments/DandT/4x4jan14{/gallery}