England Debut for Abbie Brown!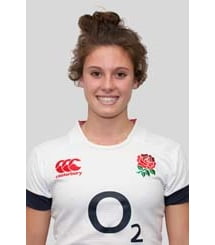 Congratulations and best wishes to former Clyst Vale student Abbie Brown, who has been picked as centre for the England Women's under-20 side against France in Paris on 1st February. This is a fantastic achievement, all the more so because Abbie is barely 18.
As well as representing Clyst Vale in almost every sport available to her, and playing three sports at South West regional level, Abbie played her rugby at Cullompton, Exeter Saracens, and is now at Worcester where she is studying at Hartpury College.
Clyst Vale owes a lot to Abbie and her parents in terms of our successes in girls' rugby. As well as playing boys' rugby until the rules prevented her, Abbie was a key part of our girls' rugby teams which grew and began to win tournaments. Although Abbie had left us by then, this culminated in our girls becoming national champions in under-15 ten-a-side last year. Coaching this team was Mr Pearce, who did much to encourage Abbie when she was at Clyst Vale, and who is delighted at her success.
So, we wish Abbie well for her debut for the under-20s, and continue to follow her career with interest and pride.