U16 Rugby Girls Victorious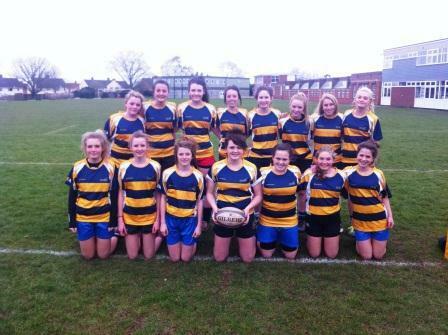 The U16 girls squad, consisting of Year 9, 10 and 11 students, travelled the long journey to Haygrove School in Bridgwater for their eagerly anticipated clash, rearranged due to the wet weather of early February. Year 11 student Kelsea Purchall skippered the side brilliantly and opened her side's scoring with two long range tries, fending off several would-be tacklers with her supreme pace and strength.
Haygrove, despite many of their girls playing their first game, were noticeably strong athletes and continued to put several good phases of play together, showing sound organisation. Despite this the CVCC girls dug in and tackled low with scrum-half Shannon Reiness leading the way with some excellent tackles throughout the game. A further first half score came from Dionne Courtney, on the left wing, who finished off a Clyst Vale turnover made by hard working second rows Molly Baker and Hannah Gregory.
Haygrove started the second half strongly, scoring an early interception try when the quick Clyst Vale backs were attempting to run the ball deep inside their 22m. Bella Luke, showing great awareness, scooped up a dropped ball in the Haygrove half to restore parity and Amy Louise Riggs (a Year 9 student playing against Year 11 girls) showed her outstanding pace and power to score in the corner after great passing and handling by the whole squad.
This was a great performance in the most competitive game in which a CVCC girls' side has been involved in recent years. This brought out the best in the squad and really illustrates the strides that the girls have taken in their rugby performances through their hard work at school and at their local club, Exeter Saracens RFC.
Well done to all the squad:
Kelsea Purchall (c), Ailise Stack, Shannon Reiness, Annalise Cocking, Molly Baker, Hannah Gregory, Bella Luke, Courtney Sellick, Anna Thurley, Ella Goodwin, Amy-Louise Riggs, Lauren Jenner, Dionne Courtney, Lauren Jenner, Malli Smith, Amelia Worth.