U13 & U15 Girls @ Regional Contact Rugby Finals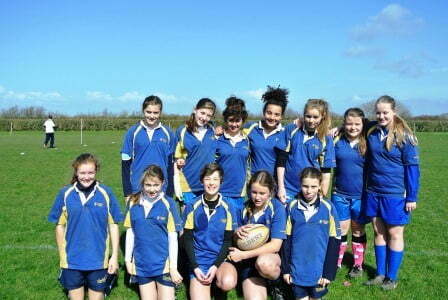 Following qualification at the Devon round on 7 March, both squads represented Clyst Vale at the Regional Finals, held at Burnham-on-Sea RFC on Tuesday 25 March. The winners of each pool go through to the National Finals and then onto Twickenham as last year's squad experienced.
The U15 team, which included several members of the squad which won at Twickenham last April, were placed in a tough group consisting of the two U13 finalists from last year, Dene Magna and Kings of Wessex schools, both of which are essentially strong club sides from around the Bristol and Gloucestershire area.
The Under 15's finished 3rd in their pool, winning two of their four games with the following results:
CVCC 10-5 Helston (Amy Riggs, Hannah Gregory)
CVCC 5-10 Dene Magna (Anna Thurley)
CVCC 0-15 Kings of Wessex
CVCC 25-0 John Cabot (Bella Luke x 3, Annalise Cocking, Amy Riggs)
Well done to all of the squad: Annalise Cocking ©, Molly Baker, Hannah Gregory, Bella Luke, Courtney Sellick, Jamie Bell, Anna Thurley, Ella Goodwin, Amy-Louise Riggs, Lauren Jenner, Amelia Worth, Georgia Evans, Malli Smith, Fee Cassidy-Butler, Dionne Courtney.
The U13's had some relatively new faces in their squad and found it tough against some established club players at regional level, losing all of their pool games but winning one of their second round games. Despite losing Captain Maddy Ross to injury, they soldiered on to play with an excellent spirit and dedication.
Well done to all of the squad: Madeleine Ross ©, Freya Westney, Annabel Duman, Rosie Martin, Amelia Hopkinson, Megan Wasniowski, Josie Wild, Coral Woodstock, Grace Ford, Ebony Hayler, Eleanor Brandon, Tabi Wise.
{gallery}departments/PE/rugby260314{/gallery}