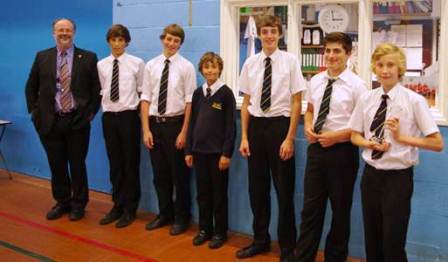 In the final assembly of term on Wednesday, this year's annual awards were announced and presented as follows:
Caring Cup: Lucy Bourne (Year 11), for her support of fellow students in difficult times, her support of younger students through sport, and her positive, compassionate attitude most recently demonstrated on the visit to Kenya.
Citizenship Shield: Emily Pring (Year 9), Katie Yeoman (Year 10), jointly for their impressive fund-raising and being excellent role-models of young people wanting to make a difference: Emily has raised over £1000 so far for ELF, while Katie fund-raised and undertook project work in the Gambia, improving a primary school – this was through an external charity, not as part of a school-organised expedition.
Spirit of Devon Award: Megan Parsons (Year 9), who is the student who has made most academic progress from the start of Year 7 to the end of Year 9!
Musician of the Year: Anna Sharkey (Year 10), for dedication to her own music, superb approach to GCSE Music, preparedness to be involved in various groups and ensembles, most notably The Addams Family, reliability and character, and also her readiness to help and support younger musicians.
Outstanding Achievement: The 4×4 Team (Zacc Tullett, Matt Davison, Daisy Selley, Willow Tatman, Nathan Elliott, Joachim Boyden, Finn Manning, Jake Kendall-Torry, Ed Gold). Usually this is an individual award, in most cases for sporting achievement, but in 2013-14 the single biggest student achievement by some distance was the success of the 4×4 team. They are a great bunch of students, possessing fantastic teamwork and leadership skills, and their success has enhanced Clyst Vale's reputation locally, regionally and nationally.
Congratulations to all of the Award winners; they demonstrate everything that is good about Clyst Vale, are excellent role-models for others, and thoroughly deserve this recognition.
{gallery}CollegeInfo/finalassembly201314{/gallery}