New Classroom Block Officially Opened!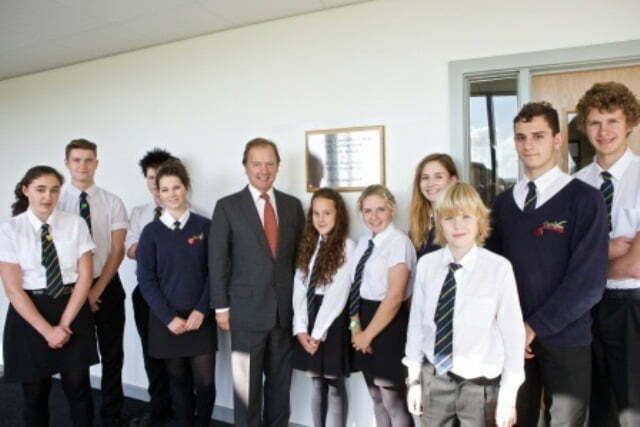 We were delighted to welcome Hugo Swire, our local MP, as guest of honour to unveil a plaque to officially open the new classroom block last Friday, 10th October. He congratulated everyone involved in delivering the project on time and on budget, and said he looked forward to opening more new buildings at Clyst Vale in the future as part of the College's continuing development.
Present at the opening were the four Schools' captains, representing the student body, and Clyst Vale's two youngest students, symbolising the future generations of students who will benefit from the excellent new facilities. We were also pleased to welcome representatives from Grainge Architects, Hills (the project managers), and Devon Contractors who were responsible for the construction. Also attending were representatives of the National Trust, Broadclyst Parish Council and Clyst Vale's Governing Body.
Following the opening, the party toured the building, and visited several lessons including A- level Politics and a Year 7 Science lesson before taking tea in the College Library. The pictures below show the building, the opening ceremony, and Hugo Swire's interaction with students. There is also a link to a timelapse video showing the building being erected.
We are thrilled with the new building. It is light, with spacious classrooms and wide corridors, and a vast improvement on the temporary classrooms which have now all gone. Students and teachers have a much better learning environment, while the site has a modern new building which reflects Clyst Vale's recent improvement and future ambitions.
Please click HERE to view the timelapse video of the building's creation.
{gallery}departments/Citizenship/blockopening{/gallery}