Devon County Council and its partners are developing a new way of working together to improve the lives of all children, young people and families in Devon, called the 'Children, Young People and Families Alliance'.
Over the last five months, some of Clyst Vale's Year 9 students have been involved in the co-design and consultation for the new Children, Young People and Families Alliance Plan. Our students have attended workshops, focussing on emotional wellbeing and mental health and, in the Spring, there will be other events to track the progress in delivering priorities and re-directing resources in Devon. In January, the draft plan will be given to our students to allow amendments to be made before the plan is sanctioned by Devon County Council. It has been a great honour for our students to be consulted in the making of this immense change to services for children.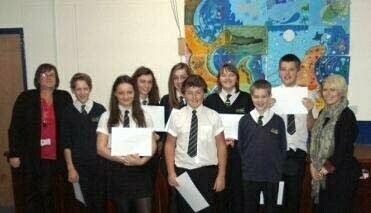 Liza Jarvis, Commissioning Officer, came into Clyst Vale to present certificates and a letter of thanks to the students involved: Louis Cocking, Peter Feehan, William Fowles, Adam Koopmans, Giorgia Larmont, Hannah Nordqvist, Lucy Pullen and Annie Pulman.