Harry Patch Day Benefits the RNLI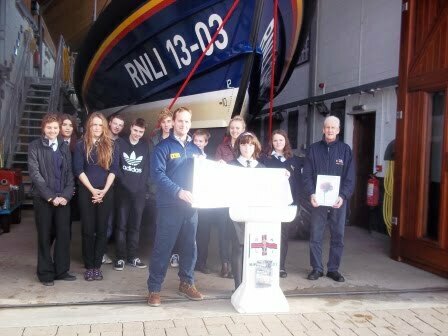 The grand total raised in 2014 for the RNLI in memory of Mr Harry Patch was £451.62. Many thanks to all of those who helped on the day and contributed to raising this fantastic amount.
On Tuesday 16th December the prizewinners and main fundraisers were invited to visit the RNLI Exmouth to hand over the cheque. Those invited on the trip were Hebe Poole, Peter Feehan, Maddie Ross, Lucy Carter, Sophia Robinson, Emily Pring, Amalia Gimbuta, James Murphy, Ryan Loosemore and Jack Howarth. We presented a copy of the prizewinning Poppy illustration, painted by Anna Sharkey, to Mr Don Hodgkinson who is the volunteer fundraiser for the Exmouth branch of the RNLI. We had a tour of the station and saw how our money is used.
We have held a "Harry Patch Day" each year since 2009, and I hope to keep this going and to raise even more money next year.
{gallery}departments/History/rnli{/gallery}