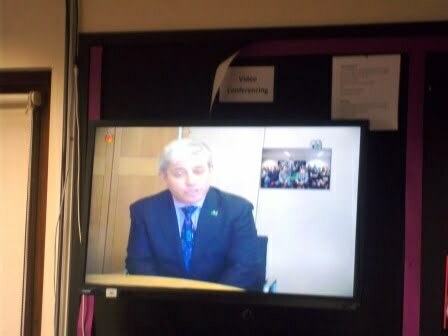 On 20th January, Clyst Vale Community College became the first school in the UK to have a video link conference with the Speaker of The House of Commons, Rt Hon John Bercow.
The Speaker agreed to spend an hour talking with Post 16 students. Around 35 A level Government and Politics students met Mr Speaker via the video link. He briefly explained his role and then took questions from the students, and talked about the increasing importance of back bench MPs. When asked about the most impressive speakers in the House of Commons he praised Tony Benn, Robin Cook, William Hague and Malcolm Rifkind. He was especially proud of the quality of the debate in the House over the Hillsborough inquiry, and of the many people he has met he mentioned Aung San Suu Kyi as amongst the most inspirational. After our meeting he described the students as being engaging and well informed.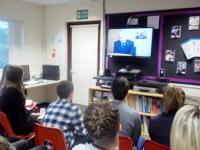 20th January was the perfect time to talk to Mr Speaker. On this date in 1265 the first English Parliament met. This Parliament had two representatives from each of the shires and two from the boroughs and was the very start of our representative democracy. To meet the Speaker of the UK Parliament on the 750th Anniversary of the first Parliament was a special pleasure.