U13 Girls' Rugby Regional Finals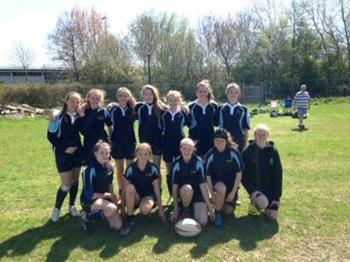 The Year 7 and 8 girls represented the College at the RFU regional finals at Weston Hornets RFC on Wednesday, one step away from the national finals in London. The qualification from the Devon section came as the girls finished runners up to Kingsbridge at Topsham RFC at the end of March.
The girls were placed in a tough pool alongside Bude and the national finalists from previous years of Dene Magna and Hugh Sexey School.
The first game up against Hugh Sexey's, was level until half time, with Clyst Vale's strength and power proving useful against a well drilled and fast side. Winger Alyssia Board crossed for the try, but unfortunately, the opposition pulled away to win 20-5 in the second half, with their more evasive running tactics on very hard ground.
The second match against Bude saw Clyst Vale run out 25-5 winners, with Rachel Champion, Grace Ford, Ebony Hayler, Emily Blatchford and Shannon McIlroy scoring.
The final group game versus Dene Magna again saw Clyst Vale take a 5-0 lead through Alyssia Board, but unfortunately fade in the second half to go down 15-5. This ensured that the girls played a 5/6 playoff against Fairlands School in their final match of the day. Tries from Ebony Hayler, Emily Blatchford and Lauren Elliot were not enough to stop the team going down 20-15.
The girls did extremely well against tough opposition in terrible conditions on a hard and dusty pitch which ensured plenty of grazed knees and elbows. A big thank you to the parents who travelled the substantial journey to watch the girls play.
Well done to all of the squad: Grace Ford, Lauren Harker, Tabi Wise, Shannon McIlroy, Emily Blatchford, Ebony Hayler, Megan White, Dulcie Sanders, Alyssia Board, Lauren Elliot, Rachel Champion and Niamh Truscott-Jane.