Annual Awards and End of Term Assembly
This year's end of term assembly was a great and positive way to end 2015-16. Helping the atmosphere enormously was The Jazz Band, who played three foot-tapping songs and, best of all, really enjoyed themselves performing; so, a big thank you to Megan, India, Joe, Tom, Robbie and Amelia, as well as Ms Williams and Mr Pearce.
Sports Day Awards and individual tutor group trophies were awarded by Mr Powell.
The overall School winner for 2015-16 was Yellow School. As Mr Sutton said while presenting, EVERYTHING each student does is reflected in this: all the praise and behaviour points are included, Sports Day, inter-tutor sporting and other competitions, attendance, and anything else which attracts praise.
Clyst Vale's Annual Awards were awarded as follows:
The Caring Cup, for a student who has demonstrated particular strengths and selflessness in supporting and caring for others was awarded to Hannah Nordqvist (Year 10 pictured below right), for her commitment to the Amnesty Group and her willingness to support others in her peer group and as a mentor to younger students.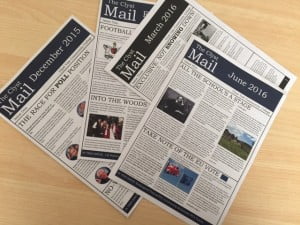 The Citizenship Shield is for a student who has done much to promote the values of good citizenship, especially where this relates to student voice being heard. This was awarded to Erin Santillo (Year 13), another stalwart of the Amnesty Group, and joint creator and editor of a high quality College Newspaper, blending national, local and College issues.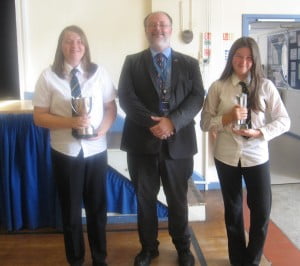 The Ostler Award for Outstanding Personal Achievement is usually awarded to a student who has achieved national recognition in some way. This year, for representing England at rounders in her age group, the Ostler Award went to Molly Dart (Year 9).
The Spirit of Devon Award is awarded to the student in Year 9 who has made the most progress since he or she joined Clyst Vale in Year 7, measured against Key Stage 2 results. This year's Award was thoroughly deserved by Lily Collins, although unfortunately she was ill and couldn't receive the award in person.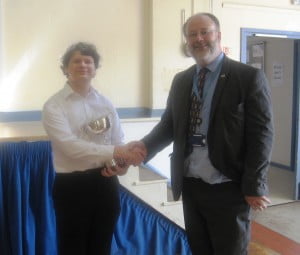 The Tolman-May Award, in memory of former student Maddie Tolman-Way, is for someone who faces especially difficult challenges and shows great resilience, perseverance and success in overcoming them. Andrew Barnes (Year 13) thoroughly deserves this award, as he has made tremendous progress academically and socially in his time in the Sixth Form, and will be known to younger students for his backstage work with performing arts, including "Into the Woods".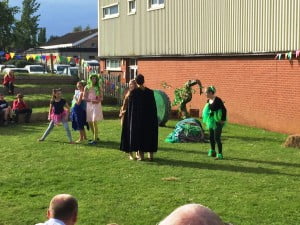 The "Pope's Challice" is awarded to the student who has done the most to promote performing arts or music. This year it was a very difficult decision, as we have such a talented group of students in a range of years, and we finally decided on Caitlin Tyrrell (Year13). Caitlin has performed in many College productions, often in leading roles, but more than that has encouraged and supported other younger performers, and been fully committed to performing arts at the College. Caitlin could not attend the assembly, but I have included a photo of her as Puck in A Midsummer Night's Dream at the recent Shakespeare Festival (she is in green, on the far right of the picture)
So, it was a great way to end the year; the only regret is that most of Year 8 were not present, as they were on the way back from Bude, a calendar error we will avoid in future. Perhaps moving back to the Main Hall helped improve the atmosphere and acoustics, but I think it was a great way to end the year because it focused entirely on success, and reminded us all that we have so many talented and inspiring young people at Clyst Vale.