Congratulations to Year 11!!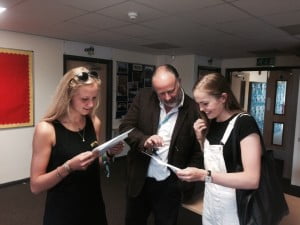 As always, there was plenty to celebrate on GCSE results day, and as always students who worked hard and took their studies seriously did deservedly well. Clyst Vale's top performers, achieving 10 or more A-A* were Verity Greenaway (10A*,1A), Georgia Dyer (7A*,3A), Finn Manning (4A*,7A), Megan Parsons (4A*,6A), Harriet Gilmour (4A*,6A), and Joachim Boyden (2A*,8A). Achieving 7 or more A*-A were Holly Bunkum, Matt Davison, Hannah Ebdon, Georgia Evans, Brittany Fox, Kody Nordqvist, Anna Powell, Emily Pring, Willow Tatman, Imogen Wright and Jed Wright. In total, 27 students achieved at least 5A grades among their results.
I've always been proud that Clyst Vale is a true comprehensive, and many students without a string of A and B grades also made fantastic progress and in some cases exceeded expectations. This is especially true for students who have overcome significant health issues, anxiety, bereavement, family separation; understandably, it would not be appropriate for me to name them, but I wanted to record that we are extremely proud of them, as well. With the exception of one student who was in specialist care in Dorset, every single student left with a GCSE qualification, and I'm very proud of that statistic, which is not possible without excellent teaching and support across the whole ability range.
Our headline figures are down a little, but this was to be expected after two record years and with a cohort who were (overall) of lesser ability in statistical terms. Even so, our students achieved 72% A*-C grades in total, which is comfortably above the national figure. What is important is that our progress measures will show better progress than might be suggested by a drop in A*-C. Our results have held up well while national ones are apparently in decline. I'm also relieved that for the most part students have achieved pretty much what we expected, although we have experienced grade boundary increases in a few subjects, which is tough and unfair on those students caught in that trap.
My colleagues could not have worked harder for the students, so I am pleased for them, too; it shows the breadth of teaching quality at Clyst Vale that students achieved A* or A grades in all but three subjects. In terms of progress, not just A*-C, our top performing subjects this year included Food, Biology, Art, French, English Literature, English Language, Chemistry and Health & Social Care.
All that said, it was the students' day, and once again congratulations to them all!
Dr Bawn