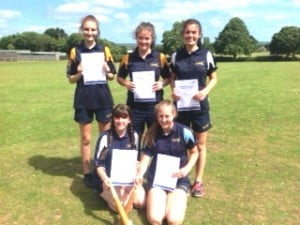 A group of five reliable and keen rounders' players were selected to attend a rounders' umpire course recently. They ventured across to St Luke's where an England rounders leader came to visit to the deliver the course. The morning was scheduled for our students to recap and learn any extra rules. Then they all sat a test paper to assess the theory side of the course. All our students passed with flying colours and clearly understand the rounders rules well.
Students were then thrown into action umpiring all afternoon for a primary school tournament, during which I received many compliments on their ability.
The girls are now umpiring our weekly inter tutor rounders' competition, involving Years 7, 8 and 9 over the coming weeks.
This was a very successful day.  Congratulations to the students involved who successfully gained their qualification.
Mrs Broomfield
Head of GCSE PE and KS4 Co-ordinator