Visit from Baroness Watkins of Tavistock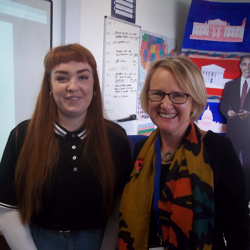 Last Friday morning, the Sixth Form Politics classes were visited by a member of the House of Lords, a 'People Peer' and cross-bencher, Baroness Watkins of Tavistock. A former nurse, she was appointed in November 2015. Her key policy interests include nursing and healthcare, education, housing and social services.
Baroness Watkins visited as part of the Peers in Schools programme, and gave a talk on the work of the House of Lords and current issues facing them. She expressed her support for gender equality in Parliament, and the representation of minority groups, as well as supporting the recent update to legislation that allows Peers to resign.
Then there was time for a Q&A session, with questions ranging from 'Is there a schedule in the House of Lords?' to 'Do you think the House of Lords should have a veto?'.
Cakes and scones were shared before she left, but not before pictures were taken, including one with Emer Cunningham (above), whose parents are both mental health nurses.
Mrs Padden
Teacher of Government & Politics