The Clyst Vale students responded brilliantly to our 11th November commemorations. In the History Department we have created a wall of poppies. Tutors have helped by encouraging all students to find the name of someone killed in the 1914-1918 war and we now have hundreds of poppies on our wall, each one remembering someone who died in that terrible conflict.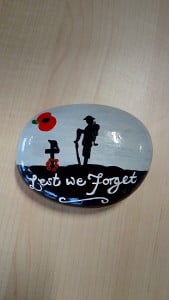 For our 'Dress Smart' non uniform day on 9th November many students dressed impeccably and looked really impressive. The tutor group prize has yet to be decided as the competition was so strong. The Post 16 students once again took the lead in this.
Chris Harvey, in Year 11, created the wonderful stone memorial pictured right.
Mrs Padden
Head of History
Teacher of Politics