I would just like to say from Clyst Vale Community College we are so grateful and honoured to be part of project rugby. Our school have had a memorable and enjoyable day learning how to play competitive rugby and new skills. The excitement from the players today has shown how this experience has motivated others to take part in women's rugby and even join a regular club.
Throughout the day the staff and Exeter chief community coaches has supported and taught us many new skills and many tactics to improve on our rugby. We attended many events throughout the day including:
Kicking tactics – Ollie
Lines speed- Gareth
Drawing a player – Aaron
Scrums- Andrew
Rucking – Richard
Contact – Caleb
All these events were key elements in our rugby and taught us in our afternoon friendly matches how to perform key tactics and effective technique. The Exeter chief community coaches showed us guidance and perseverance to carry on and push through. We met two amazing sporting individuals that played for the Red Roses which was an amazing and inspirational experience for all of us at Clyst Vale Community College.  We met Marlie Packer who is a member of the Red Rose's team, she plays a key position of a flanker. We also met Lagi Tuima who is also a key sporting star who is also playing for the Red Roses team. We received Project Rugby and Community Chief tops which was a lovely asset to the day. We all received a photo from these amazing sporting stars and even had the opportunity to be filmed on live television which was an amazing experience and great honour to us all. Us all at Clystvale are so grateful to of had this opportunity to speak with these amazing sporting stars as we all look up to them and would love to be like them one day.
We would all like to thank everyone who made Project rugby happen and many thanks to all of the staff and community coaches that took part throughout the day. We would also like to say good luck to the Red Roses team with their game against Italy women.
Thank you so much project rugby!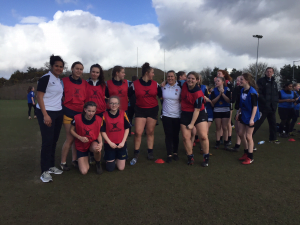 Chloe Elliott (Year 10)