Good News from a Former Student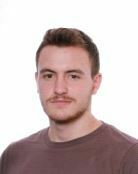 George Peters, who left us in 2018, is to become an officer in the Royal Navy. George achieved good GCSE results and strong A levels in History and Politics. He also completed a very good extended project.
The selection process is extremely rigorous, and took almost two years. On his final three day assessment George was the youngest candidate and the only student who had attended a state comprehensive school. George so impressed the selection board that they have accelerated his start date. He will begin his training at Dartmouth Naval College in May 2019. We are, of course, extremely proud of George's achievements.
Mrs H Padden
Head of History
Teacher of Politics