A-Level Celebrations and Oxford Success !!!
It's been a very good day here, with ALL students getting into their top choices of university or moving into employment or training. We're really proud of them all; several students have overcome real trauma in their lives or mental health issues but have done really well and are able to move forward with renewed confidence. Our most able students have done fantastically well, and are listed below.
Special mention must go to Maddy Ross, who has won a place at Balliol College, Oxford; the credit and hard work is hers, of course, but it is important for our reputation as a College that able students can access elite universities. This is not just a matter of teaching and learning, but all the opportunities we offer from Year 7 upwards which are captured in the UCAS Personal Statement and more importantly show the rounded character of a person. Maddy, who has been involved in Amnesty and Human Rights, sport (she's a cricketer), the College productions, and far more, is a great example of this.
In case you missed this on Devon Live………
"A-Levels and BTecs are gateway qualifications, and once again it's a really positive day. We're thrilled that nearly all of our students can progress with confidence on to the next stage of their lives. We're celebrating high performance, including Oxford success, but we've also helped several students through family trauma and/or mental health issues and they too are fantastic success stories. In fact, the only tears today have been of joy and relief !
A-Levels and BTecs are much more about the students themselves than about league tables. Nonetheless, we're delighted with a 99% pass rate, and that 43% of grades were at A*-B standard. We expect these to be in line with national averages,
Congratulations to all of our students on their results in A levels, AS levels and other BTec qualifications. Congratulations also to my colleagues who have taught and supported them throughout major changes to qualifications and while under financial constraints because of government cuts to post-16 education. It's easily missed that this is the third successive year of change, with several subjects including Maths experiencing the new, more rigorous exams this summer.
The following Clyst Vale students have done especially well this year:
Maddy Ross achieved A* grades in English and Politics, A in History and C in Maths, and is thrilled to bits to have secured her place at Balliol College Oxford to read PPE.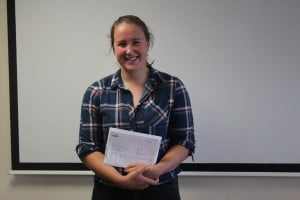 Maddy Ross
Chris Grieve achieved A* in Biology with A grades in Chemistry and Maths, and will now study Biochemistry at Cardiff University
Adam Barber gained straight A grades in Computer Studies, Maths and Physics, securing his place to read Civil Engineering at Bristol University.
Adam (L) and Chris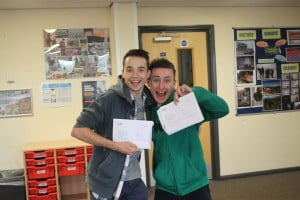 Robbie Palmer achieved A grades in Biology and Computer Studies, a starred Distinction in BTec Music and a B in History; Robbie is planning to study TV Production at Bournemouth University in a year's time.
Freya Westney earned A grades in English and Politics, with a B in Art; she will go on to study International Relations at Birmingham University next year.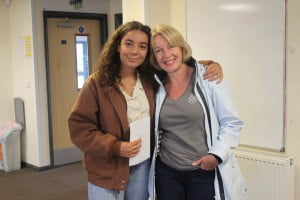 Freya with her Mum
Eleanor Sansbury achieved an A in Biology, with B grades in Chemistry and Maths; Eleanor will be going to Edinburgh to study Biochemistry
Marcus McCabe earned ABB in Politics, History and Geography respectively, and has a place at Warwick University to study History and Politics.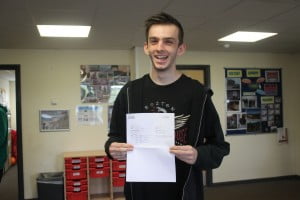 Marcus McCabe
Joe Nisbet will study Law at Leeds after securing A in Politics, starred Distinction in Music, B in History and a C in Maths
All subjects but one had 100% pass rates, with our most successful being Performing Arts, Applied Science, Computer Studies, Politics and Geography. Degree choices continue to reflect the College's strengths and values, in science-related and politically-related subjects.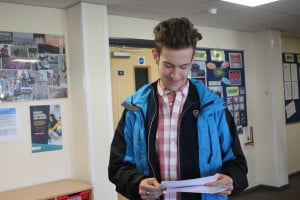 Harry Hayes checks his results. Harry will study Law while employed by Stephens and Scown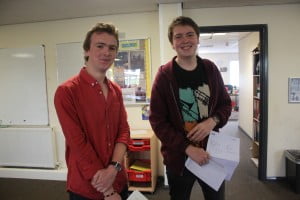 Twins Tom (L) and Robbie Palmer both achieved starred distinctions for BTec Music, and a whole lot more besides !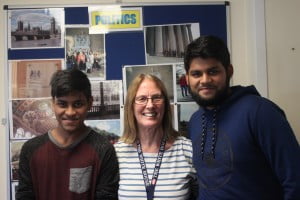 Syed Alam (L) will study Computer Science at Brunel University. He's seen here with Mrs Padden, and his elder brother and former CVCC student Mushi who works for Price Waterhouse Cooper; both agree their "two best years of education have been at Clyst Vale".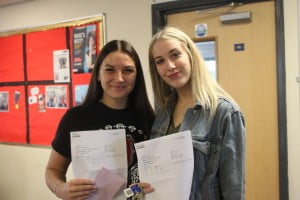 Issy Calderwood (L) and Liv Hellier will study Forensic Science (University of South Wales) and Midwifery (Sheffield Hallam University) respectively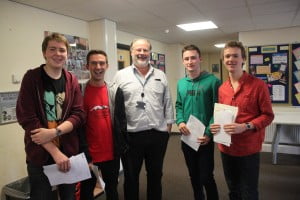 Robbie Palmer, Joe Nisbet, Chris Grieve and Tom Palmer. As well as their A-level and BTec success, they have contributed so much to Clyst Vale over the years that all sorts of people wanted to share their moment.