We had some wonderful artwork created for the Harry Patch Day competition 2019. The Exmouth Lifeboat station has kindly offered to take a group of our prize winners on a guided tour of the lifeboat station, and this will be arranged as soon as possible.
The prize winners are
Jasmine Daniels Year 12…..portrait of Harry Patch with poppies
Michael Chick. 10GIM….Four poppies
Saffie Moon 9YCW…..Agapanthus with butterfly
Isla Cowie 8GNB…Peace Rose
Penelope Le Breton 8YNS….Peace Rose
James Rowe 8RSJ…..Apple and poppy
Ewan Holmes 8RGG….Poppy with Harry Patch roots
Isaac Lea 8RGG…. Poppy and bud
Betsy Speck.8YMPR. "We will Remember"
Georgie Taylor 8GSW "War is organised murder"
Holly King 7RAO……Single poppy
Sophie Pepper 9……..cross and flowers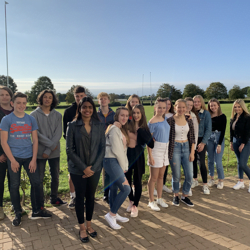 The Post 16 students were brilliant. We had a "Dress up smart for Harry" day and they ran a cake stall in Post 16. Star baker was Mia Cross 13HP.
We also had a cake stall in the staff room so will have some money, once again, to take to the RNLI Exmouth in Harry's memory.
My thanks to all students and staff who joined in to make Harry Patch Day 2019 another brilliant event.
Mrs Padden
Head of History
Teacher of Politics