Armistice Day 2019 – RNLI, Exmouth – in memory of Harry Patch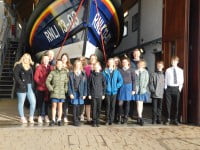 On Monday 11th November a group of 14 students went to the RNLI Exmouth. We were invited to have a guided tour of the lifeboat station and to see the new Shannon Lifeboat.
All of the students invited won their place after contributing to Clyst Vale's Harry Patch Day 2019. The artists who produced prize winning pictures were; Holly (Y7), Georgie (Y8), Betsy (Y8), Isla (Y8), Isaac (Y8), Ewan (Y8), James (Y8), Penelope (Y8), Saffie (Y9), Sophie (Y9) and Jasmine (Y12). Mia, Rose and Eve, all in Y13, were invited because they had raised so much money from the Post 16 cake sale.
We were able to hand over £170 to the RNLI from our competition and cake sales on 22nd September 2019. We were also thanked for our 2018 fundraising efforts for the RNLI which was our best year ever at £997. As the RNLI relies entirely on voluntary donations our fundraising efforts were praised by the RNLI and all of the students enjoyed a wonderful afternoon at Exmouth.
Mrs Padden