CVCC Hustings – Weds 20th November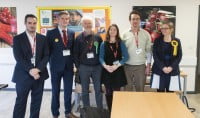 The Hustings on Wednesday 20th November in Post 16 were absolutely brilliant, with huge thanks to Mrs Padden for organising it and being Clyst Vale's own Fiona Bruce in the Question Time section!
All students in years 12 and 13 attended the Hustings and we were delighted to have all six candidates for the East Devon Parliamentary constituency in attendance. Each candidate explained why the people of East Devon should vote for them in a three-minute overview of themselves and their (or their party's) main policies. There followed questions from students on Brexit, a second Brexit referendum, the declining standard of political discourse and language, social media, and equality.
At the end of the Hustings we moved to the Post 16 Café and the students were able to talk to the candidates in a more informal setting, over Devonshire scones with jam and cream.
We are very grateful to all of the candidates for giving up their time and attending.  Our Sixth Form students were amazing, and it was pleasing that the candidates commented positively on their interest in political matters and their excellent manners.  In fact, one candidate e-mailed Mrs Padden to say "Please pass my gratitude on to your students. There is no greater advert for lowering the age of voting to 16, than the intelligent, thoughtful, honest students I met today. I learnt a huge amount from them sharing their experiences and views, regardless of whether they were aligned with my own. If the future belongs to our children, then I'm glad it's in safe hands. You must be very, very proud of them and rightly so."
The full list of East Devon candidates who attended our Hustings event is as follows:
Peter Faithfull – Independent
Simon Jupp – Conservative Party
Henry Gent – Green Party
Eleanor Rylance – Liberal Democrat
Dan Wilson – Labour Party
Claire Wright – Independent
With our sincere thanks to photographer Dale Cherry (www.dalecherry.co.uk)for his kind permission to use the photographs that appear in the gallery at the top of this article.
Students preparing the room… and Mrs Padden preparing the refreshments.
Simon Jupp (Conservative), Peter Faithfull (Independent), Dan Wilson (Labour), Eleanor Rylance (Liberal Democrat)
Claire Wright (Independent), Henry Gent (Green Party)