Clyst Vale Talent Show – May 2022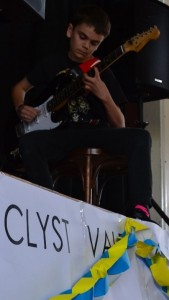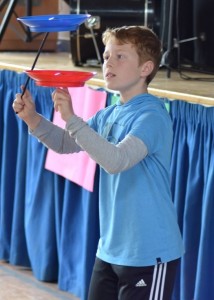 A talent show hold on Friday 13th May, which was part of CVCC's Ukraine Day fundraising effort, was an unqualified success!
13 acts performed and amongst these, the variety was incredible! The talent on show ranged from dramatic monologues to students singing and playing their own compositions – to the surreal spectacle of Year 8 boys (in dresses, wigs and high heels) re-enacting the Battle of Waterloo, against the backdrop of a group of musically gifted Post 16 students, in 1970s costume, singing the ABBA classic. You couldn't make it up!
The student judging panel had some tough choices to make, but in the end, a very brave Year 7 student, Aidan, prevailed. He wowed the audience with his plate spinning dexterity and general showmanship and scooped first prize.
Second place was awarded to Callum from Year 8, with an electric guitar mash-up of rock and hip hop riffs. Keira in Year 9 (ably accompanied by India in Year 13), sang the haunting Cranberries smash 'Zombie' and took third place.
Huge thanks to all students involved – performers, judges, comperes, technicians, the fabulous audience – and all who offered their support in any way.
Miss Watt, who coordinated the event, said:
"Covid put a stop to many of the community activities that we have historically done in the past but Friday's event was CVCC at its best. It personified everything that we stand for at a Rights Respecting School. All year groups working together. All students showing respectful attitudes. All students coming together to have a good time and raise money for a great cause. I am very proud of each and every one of them."