Employers and Students celebrate launch of 'Focus Five Award'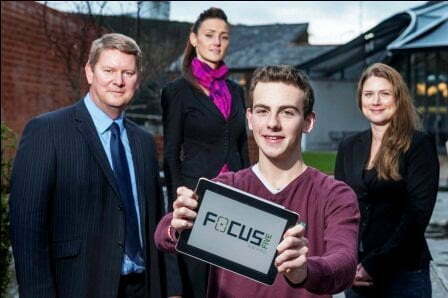 'Focus Five' is a new award designed to help young people gain 'core employability skills'. The new name and branding, created by a local student, was revealed this week by the Exeter & Heart of Devon Employment and Skills Board, who have been working with local businesses and colleges on its development. The Focus Five Award has been created in response to demand from employers who often report that they struggle to recruit young people due to lack of five key employability skills: Communications Skills; Team Working Skills; Organisational Skills, Problem-Solving Skills and Customer Service Skills.
Focus Five was named and branded by Bradley Lavis, a student at Clyst Vale Community College, who won a competition to develop a brand for the award that would appeal to both young people and employers looking to recruit. Working with alongside an Exeter-based marketing consultancy, 17 year old Bradley created a shortlist of names which were then circulated among both employers and students who voted for their favourite; Focus Five Award came out on top and then the process of the styling the award began.
Talking about the Focus Five Award Bradley Lavis said:
"I'm really pleased with the end result, the name Focus Five Award communicates the number of key skills employers are looking for and highlights what is needed to gain them. The brand had to appeal to both my age group and employers, so I used my fellow students to road-test the names for the award, before working with the employers to gain their backing. From winning the competition until now there has been a lot to do in a short time, which I had to fit in alongside my studies. Working with industry professionals on creating the Focus Five Award brand I had enough space to experiment but also needed to keep the end result in sight. It has been a really good experience for me and something I can build upon in the future."
Focus Five aims to empower young people by challenging them to use their initiative and determination to prove that they have developed these skills, with practical advice offered along the way by mentors from local businesses. By taking the award young people are better equipped to progress into work or further learning, and local businesses will have a pool of young people better prepared for work.
Sponsor of the Focus Five Award is Exeter-based Interserve Construction. The company's South West Director Richard Ellis and Chair of the EHOD Preparing for Employment Working Group, said:
"Revealing the Focus Five Award brand is a key stage in rolling out this important initiative. Bradley has done a great job and is a great example of what can be achieved when you bring employers and young people together. The Employment and Skills Board have been busy working with local colleges on getting students ready to sign up to Focus Five and developing the award criteria; we are now lining up employers to support those young people who will be applying themselves to gain the award."
Hannah Ellis Murdock, Director of The Really Good Recruitment Company, who are also supporting the award added: "Now we have a name and brand for the Award, employers and colleges can really get behind 'Focus Five' to make the pilot a success. As a recruiter, being able to see that young people have Focus Five will tell us that they are proactive, committed and understand the importance of those five employment related skills to businesses and career development."
Over the next few months, Focus Five will pilot with up to 100 students taking part (from four participating colleges – Exeter College, Bicton College, Clyst Vale Community College and Sidmouth College).
Pictured l-r above: Richard Ellis, Interserve Construction South West Director and Chair of the EHOD Preparing for Employment Working Group, Gill Bishop, Partnership and Projects Manager, Exeter & Heart of Devon Employment and Skills Board, Bradley Lavis, student who designed Focus Five Award, Hannah Ellis Murdock, Director of The Really Good Recruitment Company.
Picture taken by Theo Moye