Tiddlywinks, a Jewel Thief, Escargots and a Quick Nap…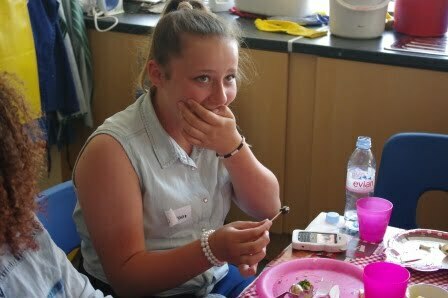 …were all parts of our latest Deep Learning Day!
To explain – one of three Year 7 Maths activities involved using three different colours of tiddlywinks to create pattern on a canvas board to learn about rotational and referential symmetry.
The Jewel Thief was a Year 9 Technology project in which students had to design, build and develop an alarmed structure to prevent a valuable jewel from being stolen.
Escargots were on the menu at the Year 7 French café, one of a series of activities to make language come alive and reinforce the culture of France and Spain.
The nap wasn't for everyone, just the Year 9 students who found the session on relaxation techniques too relaxing! This was also part of a circus of activities focusing on health and well-being.
Meanwhile Year 8 students were on a Humanities visit to Plymouth Aquarium and the Barbican, while Year 10 had an intensive Science day, including controlled assessment experiments for Single and Double Award students.
Year 12 either visited a higher education fair at Plymouth University or concentrated on CVs, applications and interviews.
{gallery}departments/dld120713{/gallery}