Venetian Masks on Display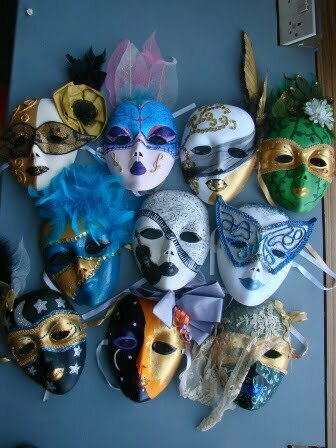 The recent Festival of Arts was a great collaboration between the Drama, Music, Dance and Art departments. Inspired by the theme of 'Carnival' students interpreted the theme in a whole range of creative performances. In the Art Department 36 students signed up for a number of lunchtime workshops in which they created their own style 'Venetian Mask'. The results were amazing and beautifully finished off with ribbons, sequins, feathers, lace and glitter. The students paraded their creations during the music performances which enriched the atmosphere of the event.
Later the masks were judged and prizes given for the most original interpretation of the theme.
The photograph on the left shows the winning masks which were created by (from left to right):
Back row: Chloe Betts, Imelda Hirst, Kate Terrett, Taesha Nightingale
Middle row: Laura Beedell, Anna Sharkey, Lucy Bilton
Front row: Katy Carter, Lucy Pullen, Liv Bellis
All students received a special certificate showing a photograph of their mask and a small prize for taking part. All the students really enjoyed the experience and have requested a similar event next year. Photos of their work are on display in the corridors and have been widely admired by students and staff alike. I hope you enjoy the photographs of their wonderful work.
{gallery}departments/Art/Masks{/gallery}