News from Former Students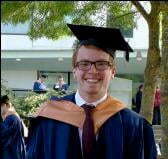 Mike Tomkins (pictured here) has just graduated from the University of East Anglia with a 2:1 in International Relations and Politics. Mike was with us from 2003 to 2010. Another former student, Dr Ian Edwards, studied at Birmingham and Cardiff Universities and is now a Senior Lecturer in Law at UEA. He visited us recently and led a seminar for A level Government and Politics students and we hope that he will visit us again in the Autumn.
Ben Smye also graduated this year. He gained a 2:1 degree in Business and International Relations from Aston University. Rob Smye will be studying in the Netherlands for his degree, having secured a place to study European Studies at Maastricht University from August 2013.