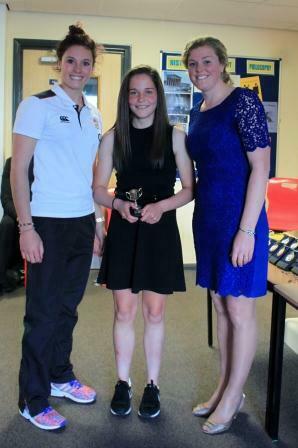 On 29th April we held our fourth successful Sports Awards Evening. The prestigious invitations went out to the Year 9, 10 and 11 committed squad players and around 100 students. The evening kicked off with our guest speaker, an extra honour for the PE Department as this year we welcomed former student Abbie Brown who now plays for Bristol and the England Ladies Rugby Team. Abbie is currently at Hartpury College whilst she is training with the England team. She spoke about being part of the England Squad, her experience in the Six Nations and the pathway to where she is today. It was an honest and inspirational talk which truly engaged our Year 9, 10 and 11 sports teams.
The evening was then handed over to the PE Teachers who spoke about their teams' season and successes. Certificates were given out for the Players' Attainment and for the players who had made the most progress, and full and half colours were awarded to Year 10 and 11 students on the basis of commitment to a squad across their time at Clyst Vale.
The final accolade was the Young Ambassador Award. This is the pinnacle of the evening and always prompts heated debate within the PE department, and speculation among the students. It goes to a student who is viewed as a natural role model for the PE department, a student who has achieved success in their sport and is a dedicated team player. The students nominated for this award were Annalise Cocking, Anna Thurley, Molly Baker, James Tapp, Will Radford, Harri Tapp and Reece Jordan.
The overall winner was Kate Finch (pictured left with Abbie Brown and Mrs Broomfield), a popular choice among staff and peers, who was greeted with a great cheer from all present.
Year 10 half colours:
Lauren Jenner
Amy Louise Riggs
Georgia Evans
Ella Goodwin
Maycee Tooze
Brittany Fox
Emma Dixon
Jess Randall-Johnson
Emily Pring
Kody Nordqvist
Mali Smith
Johnny Farnsworth
George Peters
Josh Pittham
Tommy Holmes-Moore
Jake Charlton
Tom Crees
Mason Clifford
Luke Boots-Hutchings
Reece Boots-Hutchings
Sam Chambers
Kain Cole
Callum Cross
Nathan Smeath
Jack Vicary
Harry Bell
Reece Davies
Nathan Elliott
Ryan Sowden
Reece Whittington
Jed Wright
Year 11 Half Colours:
Dionne Courtney
Lewis Breckenridge
Will Radford
Sam Watts
George Holwill
Connor Anderson
Charlotte Willmott
Daisy Ladbury
Year 11 Full Colours:
James Tapp – Rugby
Harri Tapp – Football
Reece Jordan – Football, Athletics
Callum Parker – Badminton
Annalise Cocking – Rugby
Anna Thurley – Rugby, Netball
Hannah Gregory – Netball
Kate Finch – Rounders, Football
Molly Baker – Netball
Georgina Brimblecombe – Netball
Laura Cullen – Netball
Rachel Dunn – Netball
Olivia Selway – Netball
Bella Luke – Netball
Becky Self – Netball
Hazel Teasdale – Hockey, Rounders & Netball