Fiji WIn Girls' Rugby World Cup
Girls' Tournament Report
The girls' tournament followed the boys' version and had great success, with a fantastic turnout by the girls for the four days of competition. Fiji, captained by Year 10 student Josie Holding, lost their first game of the competition on Monday, going down 6-2 to eventual fellow finalists England. They recovered well though, to record wins over Australia and Wales. They booked their final with knockout wins against Group B Winners Japan in the quarter finals and New Zealand in the semi final.
The final, against Group A opponents and hosts, England, allowed Fiji to exact some revenge following their first encounter. England, captained by Ella Goodwin, recorded a 100% win rate to the final but unfortunately could not see this out against a strong willed and determined Fiji side. England were first to score and went 3-0 up in the opening encounters, with Fiji rallying to end a score down at the break. The game went back and forth from there on, with Annabel Duman having the final say with a trademark try in the corner in the last play, using her elusive speed and evasive skills to score and record a first ever World Cup win for Fiji.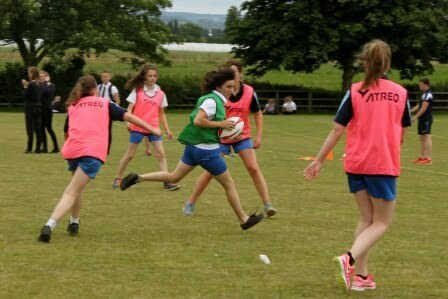 In the bronze medal match, France beat New Zealand 11-9 to ensure a silver placed second and third place finish.
The winners' medals were given out by Ms Watt, former player of the game at contact level, who commented, along with other members of staff, on the high amount of skill level, handling and conduct displayed by all pupils over the course of the competition. This really highlighted and showcased the girls' efforts with rugby over the course of the academic year.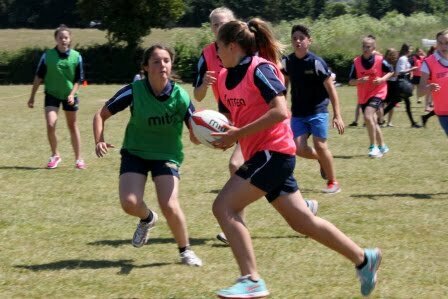 The Spirit of Rugby award went to Ella Goodwin for her captaincy of England and the manner in which she conducted herself and her team throughout the tournament, with Year 8 student, Emily Blatchford being crowned Player of the Tournament, for her great awareness, pace and vision throughout all the games in which she played. All group standings and results are listed overleaf.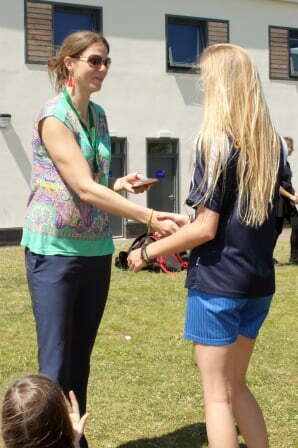 Congratulations to the Champions Fiji:
Josie Holding, Annabel Duman, Millie-Jo Elliott, Lauren Elliot, Amelia Agutter.
Girls' Tournament Group Results
| | | | |
| --- | --- | --- | --- |
| POOL A | WINS | POINTS | TRY AGGREGATE |
| England | 3 | 9 | +12 |
| Fiji | 2 | 7 | +1 |
| Wales | 0 | 4 | -3 |
| Australia | 0 | 4 | -10 |
| | | | |
| --- | --- | --- | --- |
| POOL B | WINS | POINTS | TRY AGGREGATE |
| Japan | 3 | 9 | +7 |
| South Africa | 2 | 7 | +7 |
| Samoa | 1 | 5 | +1 |
| Scotland | 0 | 3 | -15 |
| | | | |
| --- | --- | --- | --- |
| POOL C | WINS | POINTS | TRY AGGREGATE |
| New Zealand | 3 | 9 | +14 |
| Tonga | 2 | 7 | +3 |
| Georgia | 1 | 5 | -3 |
| Argentina | 0 | 3 | -14 |
| | | | |
| --- | --- | --- | --- |
| POOL D | WINS | POINTS | TRY AGGREGATE |
| France | 3 | 9 | +12 |
| Italy | 2 | 7 | +6 |
| Ireland | 1 | 5 | -1 |
| Canada | 0 | 3 | -17 |
Girls Tournament Last 16 Results
Quarter Final 1
Japan (Winner B) 3 v 5 Fiji (Runner Up A)
Quarter Final 2
New Zealand (Winner C) 6 v 5 Italy (Runner Up D)
Quarter Final 3
France (Winner D) 7 v 6 Tonga (Runner Up C) *AET*
Quarter Final 4
England (Winner A) 10 v 5 South Africa (Runner Up B)
Semi Final 1
Fiji 7 v 5 New Zealand
Semi Final 2
France 8 v 11 England
Bronze Medal Match
New Zealand 9 v 11 France
Final
England 10 v 11 Fiji