England Win Girls' Football Inter-School European Championships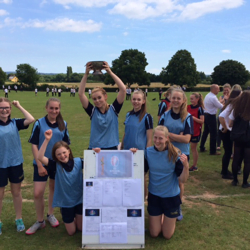 England, of Silver School, won the girls' European Championships last Wednesday with a comprehensive 4-0 victory over Red School's Belgium in the final. Belgium, led by Year 10 students, Ella Bibby and Olivia Hellier, were outstanding throughout and only conceded one goal prior to the final!
A hat-trick from Year 9 student Emily Blatchford secured the win, with Captain Amelia Hopkinson sealing the victory with a last minute penalty. This capped a superb tournament for the girls.  Participation from the four Schools, each of which had four teams, was outstanding and built upon the success of last year's Inter-School Touch Rugby World Cup.
In third place was Red School's Turkey, who dispatched Ukraine of Yellow School in a last gasp 3-2 victory in the Bronze Medal Final.
Congratulations to all the girls who participated, ensuring integration within the School system from Years 7 through to 10.
Many thanks must go to the Y10 and Y9 officials who helped referee the games, the PE staff and other staff members who supported the event.
Finally, congratulations to the England team from Silver School: Amelia Hopkinson (c), Daisy Lugg, Emily Blatchford, Anna Wallace, Immie Hopkinson, Eloise Blatchford and Ysobelle MacDougall.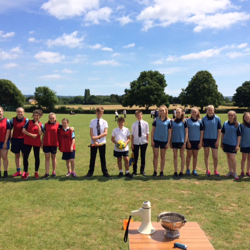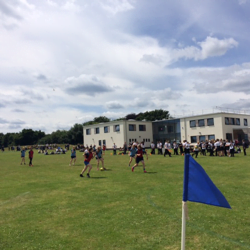 Mr Pearce