DEEP LEARNING DAY – WEDNESDAY 5 OCTOBER
Year 7 tutor groups (red population) had an action packed language day which included: cooking Spanish Fajitas (and eating them!); "Who wants to be a millionaire?" quiz about France and Spain; rolling croissants (and eating them) with food tasting in the French cafe – including snails  (asking for food in French) and a boules tournament; followed by prize-giving for the best costumes, best French, worst croissant ( a highly contested category) best French and many more.
Some feedback included:
"It was the best day at Clyst Vale so far"
"It was awesome"
"I have learnt a lot"
"I can't believe I tried an SSS – a really sticky slimy snail!
"The best was probably the boules because you were trying and trying to get the ball closest to the jack"
The Year 7 (blue population) did three maths activities:
The 7 Bridges of Königsberg: Euler's solution to getting around a network (supermarkets, logistic companies, microchip design),
Tiddlywinks Symmetry: what's not to love about glue and tiddlywinks together?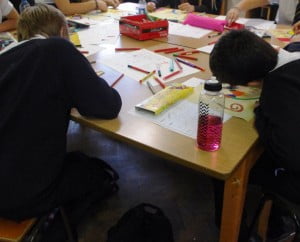 Hexaflexagons: chirality, combinations and colouring. Google hexaflexagon safety guide for more information.
The students left with tiddlywink pictures, hexaflexagons and big smiles. Jake summed  it up well, "That day went really fast."
Year 8 students learned about the "The Internet of Things". Mr Bailey did an excellent presentation to the year group explaining how computing and technology is affecting every part of our lives in ways we could not have predicted.
Students then went into groups and used Microbits, Raspberry Pis and Arduino boards to create and program their own gadgets. Gadget ranged from games, music players, robot arm controllers and even a loveometer.
Students were also supported by the Art and DT departments where they found practical and creative ways to support their programming or create real world applications for their devices.
Year 9 took part in a Geography Day looking at life living in a slum in India called Dharavi.  They experienced the issues of informal employment making paper bags for 'mean' shopkeepers who were very tight on quality control. Students also learned about the problems of constructing a slum from items found on a 'rubbish dump'. Finally they researched schemes to improve slums and thought about hope for the future.
Year 10 had a Course 42 DLD with the focus on some of the issues they might face and ways of helping to overcome them. The topics were contraception, STI's, the effect of pornography, the importance of blood and organ donation and their emotional health on transition to key Stage 4. We also had a speaker from the Teenage Cancer Trust who led very powerful sessions in a sympathetic and amusing way to inform the students.  These six sessions were all covered in the morning. In the afternoon the students had a workshop to help them identify healthy coping strategies which could help them deal with pressure.
Year 11 students used the day to work on their Science coursework, conducting experiments to find out the effect of light on the rate of photosynthesis.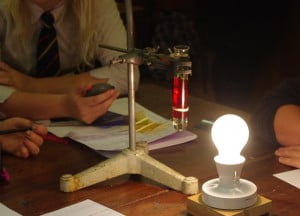 Post 16 students enjoyed an enrichment day specifically planned to bring the whole year group together and develop them as a team. The programme was delivered by the Army and included Problem Solving, Team Building & Personal Development activities, Citizenship, Human Rights, International Law & Global Conflict and Employability Skills. It was thoroughly enjoyed by the students and their tutors.