Bugsy Malone in Princesshay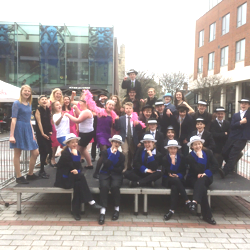 The cast of Clyst Vale's latest production of Bugsy Malone wowed the Exeter public in Princesshay last Saturday with their vibrant and energetic performances. They performed a number of songs from the show including Bad Guys, My Name is Tallulah and Fat Sam's Grand Slam. The talented students managed to attract quite a crowd and generated lots of interest because of their confidence and professionalism. Other students who were not involved in the performances gave out fliers in character and in costume and the whole event was a fantastic experience for all involved.
This iconic musical will be presented with toe-tapping, infectious music, gorgeous costumes, sophisticated choreography and hysterical comedic scenes at the Barnfield this week from 15th – 18th March. If you haven't yet got your tickets to this fabulous production, they can be purchased from the Barnfield Theatre website by clicking on the image below.
http://www.barnfieldtheatre.org.uk/bugsy-malone/