Shakespeare Schools Festival 2012
Four Shakespeare plays (abridged to half an hour each) – one amazing night!
Come and support Clyst Vale Community College performing 'The Merry Wives Of Windsor' at The Exeter Phoenix, Gandy Street, Exeter 7.00pm on Tuesday 6th November. Contact the box office on 01392 667080.
Shakespeare Schools Festival is the UK's largest youth drama festival, with over 700 schools performing in theatres all around the UK this autumn. SSF partners include the National Theatre and the Central School of Speech and Drama. Since 2000, 100,000 students have presented unforgettable nights of theatre for their local communities. For each young person this is a night to remember.
Be part of it!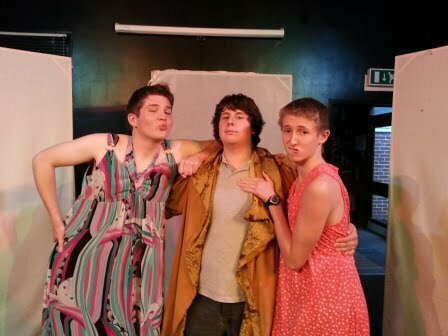 Clyst Vale has been participating in the festival almost every year since 2003. In earlier years, the cast was drawn from all year groups but over the last few years the cast has been made up of Year 10 GCSE Drama students. The positive effect of this involvement in terms of team-building and improved confidence in performance has been seen ultimately in exam results, but this is the first year where we have combined Year 10 Drama and Year 12 Btec Acting students – for whom the experience IS the first part of an examination module.
'The Merry Wives of Windsor' is a farcical comedy where the grossly behaved Sir John Falstaff is repeatedly tricked by the actions of Mistresses Page and Ford and ultimately has to admit to his misdemeanours. As such, the play is in the mould of traditional comedy. What separates 'The Merry Wives' from the rest of the Bard's plays is the fact that it focuses on the middle-classes of Shakespeare's time and is almost entirely written in prose, rather than blank verse. It is rumoured to have been written in a matter of weeks at the request of Queen Elizabeth I who was so amused by the Falstaff character in the Henry IV history plays that she wanted to see him in his own play and 'in love'. In Shakespeare's time, women were not permitted to act on stage and thus all those magnificent roles, such as Lady Macbeth and Ophelia, were performed by teenage boys. We maintain this tradition with our two 'dames', Mistresses Ford and Page played by Jake Sullivan and Guy Dennys respectively, and a little of the pantomime too with Nicki Thorne as 'principal boy', Fenton. The part of Sir John Falstaff will be played by Shaun Love and the husbands – Masters Ford and Page by Bradley Lavis and Joe Hill. All of these students are seasoned performers who did exceptionally well in GCSE Drama. They are ably supported by an inspired and already dedicated group of Year 10 students and I have no doubt that, with concentrated rehearsals, the Clyst Vale performance of 'The Merry Wives of Windsor' will be one of the most accomplished of the night and riotously funny too.
The Shakespeare Schools Festival is not a competition between the schools. It is a celebration. Nonetheless, we want the loudest cheers so please order your tickets now!
Contact the box office on 01392 667080
{gallery}departments/Drama/mwow{/gallery}