U15 Rugby Girls defeat QECC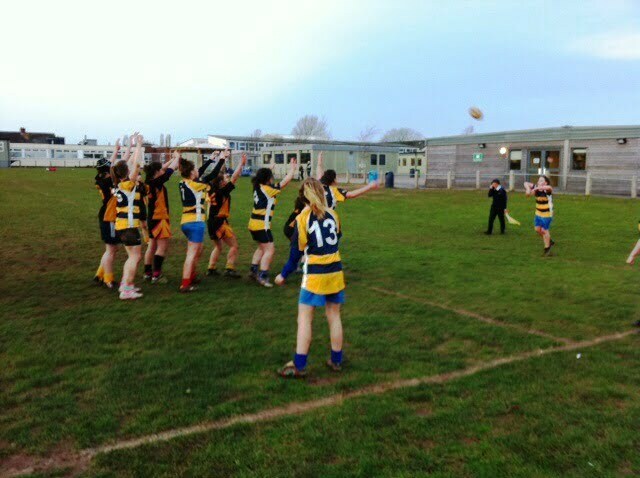 The U15 girls contact rugby squad, which consists of students from Years 9 and 10, defeated their QECC Crediton counterparts by 25-20 on Thursday evening.
Coached and mentored by Kelsea Purchall of Year 11, the majority of CVCC's side, who play outside of school for Exeter Saracens, put on a fine display of handling and running rugby mixed with some hard tackling and rucking to win the game.
The flow of the game took a while to settle down, with both sides taking time to gel and both making several handling errors. However, after 10 minutes CVCC, under captain and fly-half Annalise Cocking, started to make inroads into the QECC defence and scored tries through the aforementioned, centre Ella Goodwin and prop Amy-Louise Riggs x 2. This was enough to see the hosts home, despite a spirited comeback from QECC who have become stronger with their local club Crediton now running girls' age groups.
Player of the match was Molly Baker who dived on every loose ball, made it to every single breakdown and worked hard as a second row forward.
Mention and thanks must go to Year 11 referee Callum Ditchburn who controlled the game well.
Well done to all the squad: Annalise Cocking, Anna Thurley, Ella Goodwin, Maycee Tooze, Bella Luke, Jamie Bell, Georgia Evans, Molly Baker, Malli Smith, Amy-Louise Riggs, Kia Mearns and Lauren Jenner.
{gallery}departments/PE/rugby2401{/gallery}