GCSE Results Day at Clyst Vale
Our students have done really well and we're massively proud of them !
There aren't league tables this year, but the Class of 2021 were very successful. Of 154 students, 54% achieved a "strong pass" in English and Maths while 36% of results were at grades 7-9 or equivalent.
Without formal exams and the usual rationing of grades, our students have posted best-ever grades. The grades for students with special educational needs improved, as have those for disadvantaged students. Many individual students have battled through illness, mental health issues, or family crises, in many cases aggravated by the pandemic. ALL students experienced two lockdowns, other isolations, remote learning at home, and separation from friends. Not all students get the top grades, but there is just as much satisfaction for example for a student who achieves their potential, gets a string of grade 4s and 5s and then goes on to an apprenticeship leading on to a respected trade. So just like Year 13, our students have had a very challenging year and deserve all the praise and congratulations we can give.
Our students achieved Clyst Vale's highest-ever proportion of top grades 7-9. Almost all GCSE subjects improved on last year. There were some excellent individual results for students who would have done just as well if they had sat their exams: Lara Gulec earned 7A* and 4A; Hafina Clavey, Megan Major and Sam Walsh earned 6A* among their results, and Laurence Raeder 5A*.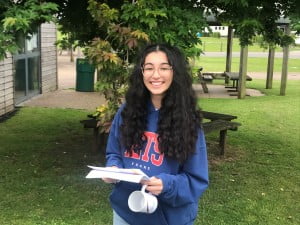 In all, twenty-seven students achieved seven or more grades 7-9: Lucia Taylor, Mollie Copp, Adam Large, Daniel Roach, Alex Cox, Jack Kingston, Summer Harlow, Adam Dodd, Lara Gimbuta, Luca Tye Lemay-Palmer, Nicholas Sloan, Joe Tandy, William Jermey, Robin Wellaway, Breanna Leach, Emma Gold, Adam Muscat, Bethan Hatt, Shino Hosgood, Theo Munro, Emily Cornish and Oliver Tydeman.
Students worked incredibly hard, and thoroughly deserve their grades. Their attendance in April and May was incredible, and their approach was exemplary. My colleagues worked above and beyond to support students through all of the challenges and anxieties, and also deserve a huge amount of praise.
Kevin Bawn
Principal